SRM6030 – Long Range FHSS 900 MHz Serial Radio Modem
• Licence-free 900 MHz ISM band
• Range of up to 25 miles (40Km)*
• Smart Spectrum™ Technology for maximum data integrity, even in noisy environments
• RS232/485 data port
• AES 256 encryption
• Additional RS232 DB9 port for configuration and diagnostics
• Operates as Master, Remote, Repeater, or Remote/Repeater
• User-adjustable hop patterns and frequency zones for refined operation of close proximity networks
• Replaces any legacy serial SRM modem
• Supports LincView™ network diagnostics software (included)
• Factory custom-configured for easy installation
• Din rail mount clip (optional)
* with omni antennas and line-of-sight, farther with Repeaters and/or high gain antennas
Product Description
Data-Linc's SRM6030 is a 900 MHz serial modem from the SmartSpectrumTM Radio Modem Family. It offers reliable, versatile, and high-performance wireless data communication. The modem features improved hardware, including a faster processor, while maintaining compatibility with the older SRM6000 model.
Like its predecessors, the SRM6030 serial radio modem employs FHSS (Frequency Hopping Spread Spectrum) technology with proven data communication reliability, in the 900MHz ISM frequency band. Data-Linc's robust modem allows customers to implement a proprietary wireless network in high RFI/EMI environments with the benefit of confidence in unsurpassed data communication integrity, including areas of existing wireless infrastructure.
Configurable through software, the SRM6030 has a separate DB9 serial port for easy access to the configuration software. Data-Linc's SetLincTM software simplifies setup and configuration, with the option of remote web configuration.
The SRM6030 supports point-to-point and point-to-multipoint network topologies, allowing for an unlimited number of radios. Each modem can be individually configured as Master, Remote, Repeater, or Repeater/Remote using Config-LincTM software. The modem offers AES-256 encryption for enhanced security and boasts a long-distance range of 25 miles (40 km) with line-of-sight, extendable with Repeaters and high gain antennas.
Overall, the SRM6030 serial modem by Data-Linc maintains the company's reputation for superior reliability, versatility, and performance in wireless industrial data communication.
Smart Spectrum™ Frequency Hopping Technology
Data-Linc Group has optimized wireless communications for maximum reliability with Smart Spectrum frequency hopping technology. Smart Spectrum ensures reliable wireless communications without requiring an FCC site license. Smart Spectrum uses a unique combination of advanced frequency hopping, high radio frequency (RF) data rate and sensitive RF receiver.
Smart Spectrum uses a high RF data rate of 188 kbps to ensure adequate throughput data rates even with high interference. Additionally, the outstanding noise immunity when coupled with a sensitive RF receiver allows long range communication with easy-to-install omni directional antennas.
Downloads

SRM6030 Data Sheet (view or download)

SRM6030 Quick Start – Contact sales for information
Config-Linc Configuration Utility – Contact sales for information
Industrial Applications
The SRM6030 is ideal for industrial automation systems with:
PLCs located on moving platforms, overhead cranes and turntables or other revolving equipment
SCADA systems, such as water/wastewater, utilities and oil/gas systems
Underground or off-shore communications
High RFI environments (e.g., steel, manufacturing)
Industrial automation machine control on plant floors
Specifications
SRM6030 Specifications
Operating Frequency
License-free, 900 MHz wireless serial modem
Included
CD Config-LincTM configuration software, User Guide
Quick Start Guide
Test antenna
DB9 serial configuration cable
Power supply Wall mount 115-230 VAC supply, 12 VDC output
Transmitter
Rated Range 25 miles (40 km), LOS with omni directional antennas
Output Power 1 Watt maximum, 10 programmable steps up to 1 Watt (30 dB)
Modulation Spread Spectrum, GFSK
Spreading Code Frequency Hopping
Hop Patterns 15 (user selectable)
Occupied Bandwidth 230 KHz
Receiver
Sensitivity -108 dBm @ 115.2 Kbps for BER10-4
-103 dBm @ 153.6 Kbps for BER10-4
Selectivity 40 dB @ fc ±230 KHz;
60 dB @ fc ±460 KHz
System Gain 138 dB
RF Data Transmission
Error Detection 32 Bit CRC
Data Throughput 1200 Baud – 115.2 Kbaud
Data Encryption 256 bit AES
Interface
RS-232/RS-485 Data ports
RS-232 Separate configuration port
Antenna
Standard thread SMA female
Supplied bench test antenna
Nominal Impedance 50 Ω
Power
Input Voltage 10-28 VDC; wall mount 12 VDC /115-230 VAC power supply included
Transmit Current 650 mA @ 12 VDC (8 Watts)
Receive Current 100 mA @ 12 VDC (1.2 Watts)
Operating Modes
Master, Remote, Repeater, Repeater/Remote
Configuration Software
Config-Linc software included
Diagnostics
Front panel LEDs Power, RF Carrier, RF Out, RF In, LAN (Link-Act), Mode LEDs x 4
Operating Environment
Temperature -40º to 167º F (-40º to 75º C)
Humidity 0 to 95% non-condensing humidity
Enclosure
Standard 18 gauge steel
2.47 X 3.70 X 6.4 in. (6.274 X 9.398 X 16.26 cm)
Optional DIN rail clip ready
Weight 1.8 lbs (.82kg)
Enclosure Dimensions Diagram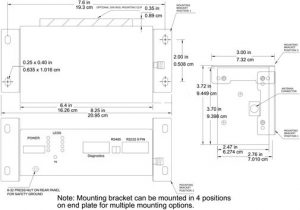 Specifications subject to change without notice.