PLR6030 – Medium-Range FHSS 900 MHz Serial Radio Modem
• License-free 900 MHz ISM band
• Range of up to 5 miles (8Km)*
• Smart Spectrum™ Technology for maximum data integrity, even in noisy industrial environments
• RS232/485 data port
• AES 256 encryption
• Additional RS232 DB9 port for configuration and diagnostics
• Operates as Master, Remote, Repeater, or Remote/Repeater
• User-adjustable hop patterns and frequency zones for refined operation of close proximity networks
• Factory custom-configured for easy installation
* with omni antennas and line-of-sight, farther with Repeaters and/or high gain antennas
**Due to unforeseen supply-chain issues, please contact our sales team for availability & lead times.
Product Description
DATA-LINC's PLR6030 serial modem was crafted to meet the demands of short-range in-plant to medium-range installations. This modem is the result of direct feedback from our customers seeking reliable data transfer solutions at a competitive price point for shorter-range applications, unlike our SRM modems, which are ideal for long-range applications in the 900MHz band.
Advanced FHSS Technology:
Empower your communication with the robust Frequency Hopping Spread Spectrum (FHSS) data transfer method, mirroring the excellence of our premium SRM Family.
Extended Reach:
Operates in the 900 MHz license-free band, providing an impressive data transfer range of up to five miles (8 km) with line-of-sight, and even farther with Repeaters.
Unsurpassed Data Integrity:
Thrive in high RFI/EMI and crowded band environments with confidence. The PLR6030 ensures unmatched data communication integrity, especially in areas with existing wireless infrastructure.
Configurability and Diagnostics:
Enjoy the flexibility of software configurability, and access independent configuration and diagnostic software through the separate DB9 serial port. LED status lights on the front panel provide convenient access to critical data communication information for quick diagnostics.
Security Matters:
Uphold the highest standards of security with AES-256 encryption, ensuring the confidentiality and integrity of your data.
Network Flexibility:
Support both point-to-point and point-to-multipoint network topologies with an unlimited number of radios. Configure each modem as Master, Remote, Repeater, or Repeater/Remote using the included software.
Reliability Redefined:
Continue to experience Data-Linc's well-earned reputation for superior reliability, versatility, and performance in wireless industrial data communication.
Maximum Flexibility:
These competitively priced modems offer maximum flexibility in network design both inside and outside the plant, providing tailored solutions for your specific needs.
*Greater range is achievable in optimal conditions with clear line-of-sight, Repeaters, and/or higher gain antennas. For detailed specifications, refer to our datasheet.
For a deeper dive into the capabilities of the PLR6030 serial modem, download our User Guide and datasheets for print-quality PDF files. Questions or requests? Reach out to us at (425) 882-2206 or in**@da*******.com. Elevate your industrial wireless communication with DATA-LINC GROUP today
Downloads

PLR6030 Datasheet (view or download)

PLR6030 Quick Start – Contact sales for information

PLR6030 User Guide
Specifications
PLR6030 Specifications
Operating Frequency
License-free, 900 MHz wireless serial modem
Included
CD Config-LincTM configuration software
User Guide
Quick Start Guide
Test antenna
Power supply Wall mount 115-230 VAC supply, 12 VDC output
Transmitter
Rated Range 5 miles (8 km), LOS with omnidirectional antennas
Output Power 500 mWatt maximum, 10 programmable steps up to 500 mWatt (+27dBm)
Modulation Spread Spectrum, GFSK
Spreading Code Frequency Hopping
Hop Patterns 15 (user-selectable)
Occupied Bandwidth 230 KHz
Receiver
Sensitivity -100 dBm @ 153.6 Kbps for BER10-4
Selectivity 40 dB @ fc ±230 KHz;
RF Data Transmission
Error Detection 32-Bit CRC
Data Throughput 1200 Baud – 115.2 Kbaud
Data Encryption 256-bit AES
Interface
RS-232/RS-485 Data ports
RS-232 Separate diagnostics/configuration port
Antenna
Standard thread SMA female
Supplied bench test antenna
Nominal Impedance 50 Ω
Power
Input Voltage 10-28 VDC; wall mount 12 VDC /115-230 VAC power supply included
Transmit Current 650 mA @ 12 VDC (8 Watts)
Receive Current 100 mA @ 12 VDC (1.2 Watts)
Operating Modes
Master, Remote, Repeater, Repeater/Remote
Configuration Software
Config-Linc software included
Diagnostics
Front panel LEDs Power, RF Carrier, RF Out, RF In, LAN (Link-Act), Mode LEDs x 4
Operating Environment
Temperature -40º to 167º F (-40º to 75º C)
Humidity 0 to 95% non-condensing humidity
Enclosure
Standard 18 gauge steel
2.47 X 3.70 X 6.4 in. (6.274 X 9.398 X 16.26 cm)
Included -Optional DIN rail mounting flanged(3)
Weight 1.8 lbs (.82kg)
Enclosure Dimensions Diagram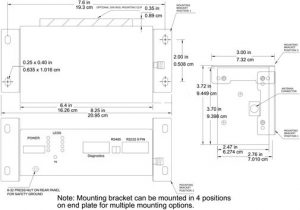 Specifications subject to change without notice.